I love the Metolius River. I've been fishing the river for over 40 years and it's the reason I live in Sisters. And two of the reasons I love this river are the quality of the fish and beautiful scenery. We fish it a lot.
So a few years ago, my wife and I decided to "give back" by helping the US Forest Service and Trout Unlimited restore areas loved to death. We became involved with the Metolius River Stewardship Project.
Metolius Rainbow
Metolius River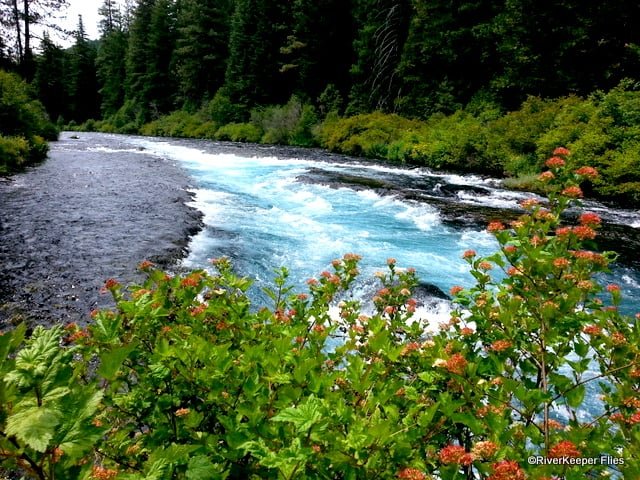 We provided an angler's insight for river access, helped plant a variety of native plants, aerated soil for broadcasting seed, and suggested large rocks be placed in an area known for muddy trails in spring.
But really, we played a small role in this effort. Lots of work parties took part in this effort – all age groups. And their efforts really paid off. The work continues.
Here is an example of the work done. These are before and after photos of the trail and bank in the Big Eddy section of the river, below the fish hatchery. The first picture was taken in early 2012; the after picture is today. It's amazing the changes that have transpired in just over two years.
Big eddy – before
Big eddy – after
Karen and I were two of the anglers in the following short Trout Unlimited film created by Wahoo Films. Hope you like it!
Metolius Rainbow
Any season of the year is beautiful on the river.
Fall on the Metolius
Winter on the metolius
A couple other things:
If you'd like to receive an email when a new Blog is Posted, be sure to sign up in the SUBSCRIBE area on the sidebar of this page.
Be sure to check out the Fly Patterns page on the website as I continue to add patterns I fish. Don't tie? That's OK. Many of these patterns can be found in your local fly shop.
Feel free to share with your friends by copying the link to my website (www.johnkreft.com), or using the buttons below to SHARE on your Facebook page or pin pictures to Pinterest.
If you'd like to follow me on Facebook, click Follow RiverKeeper Flies on the sidebar where I add a few pictures and thoughts.
Enjoy…go fish!