This week's Throw Back Thursday Fly is the Ellis Triple Wing Spinner, which I tied to imitate a Rusty Spinner.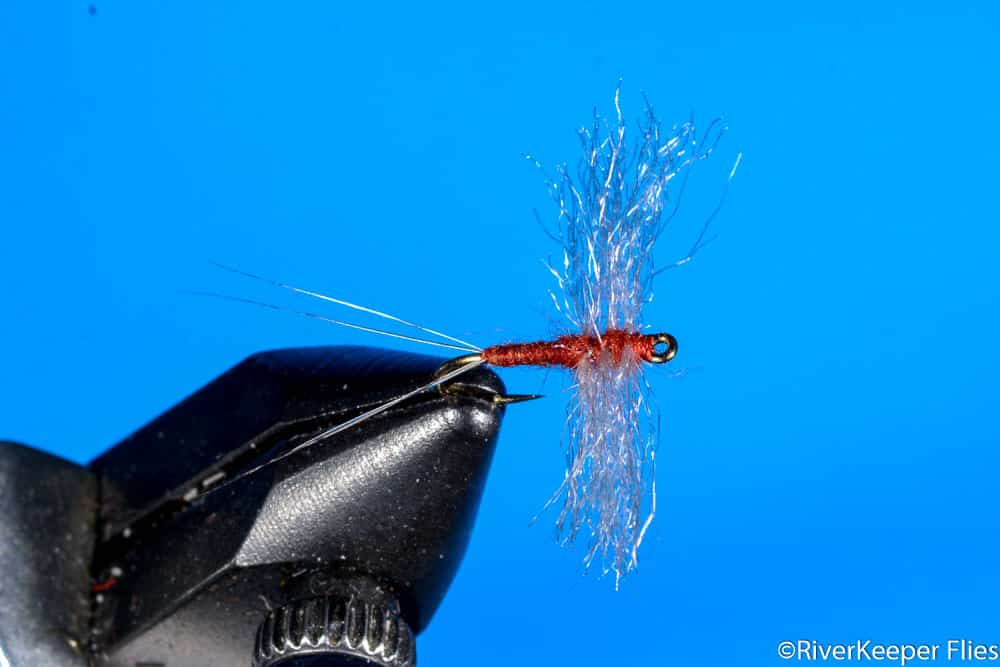 I thought it was fitting to feature a mayfly spinner as this week's TBT, since I wrote about PMD Spinner Fly Patterns in yesterday's post.
The Ellis Triple Wing Spinner can be found in Kelly Galloup's Cripples & Spinners book (2001).
I tied Galloup's Compara Spinner for yesterday's post. If you click the link it will take you to the fly pattern sheet as well as a Youtube link to Kelly tying the Compara Spinner. He talks about the Ellis Triple Wing Spinner and how the Compara Spinner is "an offshoot of Dave Ellis' Triple Wing Spinner", which he states was created in the 1980's. Dave's fly was one of the first spinner fly patterns to create a wing which was much bigger than those of found then. Kelly's fly removes one of the wings and leaves two "sets" for the wing. The second is a comparadun style wing for visibility and provides
After tying both flies in the last couple of days, I definitely prefer the Compara Spinner. It's easier to tie and has better visibility when fishing the fly. Having said that, I think it's important to know it's roots and the effectiveness of the Triple Wing Spinner.
In Kelly's book, Dave is quoted "most spinners have the areas proportioned so that the head represents 10 percent of the total length of the fly' the wing contact area is 40 percent, and the abdomen 50 percent."
Dave's fly imitates the large wing profile of the natural. The wing is tied in three separate segments, which tries to ensure they don't collapse along the side of the body.
Here is a closeup of the three distinct wings. Notice how large the wing area is.
Other "featured tyers" in Kelly's Cripples & Spinners book include Andy Burk, Ted Fauceglia, Craig Mathews, Mike Mercer, Gordon Rose, Scott Sanchez along with Dave Ellis and their favorite cripple and spinner fly patterns.
If you get a chance, pick up Kelly's book for a more thorough discussion on the importance of mayfly cripple and spinner fly patterns.
Enjoy…go fish, stay safe!
(John Kreft is a participant in the Amazon Services LLC Associates Program, an affiliate advertising program designed to provide a means for sites to earn advertising fees by advertising and linking to amazon.com.)