What flies do you carry in your fall fly box?
Fall is a wonderful time of year and in my opinion, one of the best times to catch some great fish. Here's one of them.
There are still bugs that need to hatch and only so many warm days left for them to complete their life cycle.
For some reason, the fish know winter is not far away and are hurriedly getting prepared by eating everything in sight. These fish plan to put on some winter fat…and that activity is good for the fisherman!
So, what bugs should you be prepared for? Good question!
Here are the flies I've seen hatching on the river lately:
October caddis – You'll see these big boys (like a size 10 or 8) flying around erratically. The females are laying their eggs as they touch their abdomen on the water. While I wouldn't call it a "hatch", there are always fish willing to eat these caddis. Check out my October Caddis blog I published earlier. Imitate these flies with my RiverKeeper October Caddis or your favorite Deer Hair or Elk Hair Caddis.
There are still a few Fall Green Drakes flying around. Actually, several different Drunella species that I've lumped into that title – the big boys in a size 10 (grandis) which are pretty much gone, Flavs around a size 12 – 14 (flavilinea), and what I'm guessing is a Caudatella in size 16. Because it's a mayfly, I usually tie on a Sparkle Dun (just change the color to olive) or a Caudatella Mayfly Cripple. 
Pale Morning Duns (PMDs) and Cinygmulas are hatching big-time on the river now…and the fish are keying on them! The only way to tell the difference between them is to count the tails. I'm not sure the fish care! I use Sparkle Duns, PMD Parachute, or a PMD Mayfly Cripple. For more information about PMDs, check out my Pale Morning Duns blog.
There were lots of Caddis flying around as we arrived at the river yesterday. Look for these tan and olive caddis in a size 16. That's what I fish. In addition, you'll find some dark micro-caddis as well in 18 – 20. An Elk Hair Caddis and CDC & Elk are great imitations to have in your fly box.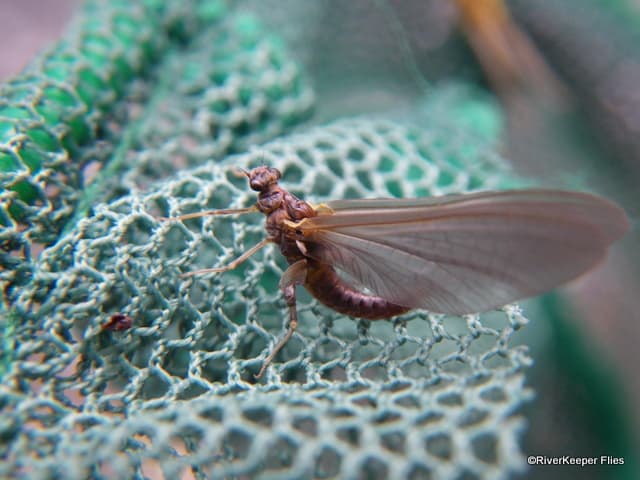 Blue wing olives (BWO) – These are little guys. A big one is size 16. You'll have better luck fooling a fish with a size 18 – 20 though. This hatch will last throughout the winter, so you can look forward to some good fishing with these flies. There are a variety of colors called BWOs…olive to a non-descript brown. I like the Improved Sparkle Dun and CDC & Biot to imitate these flies.
You might find other flies on the river, but I wouldn't be caught dead without these!
Yes, these are all dry flies. I'm fortunate enough to fish a lot and time my arrival at the river when I think the hatch will happen. I really enjoy seeing those fish rise to a fly I've tied.
So what about the nymphs? I'll cover those in a future post.