This week's Throw Back Thursday Fly is Denny Rickard's Callibaetis Nymph.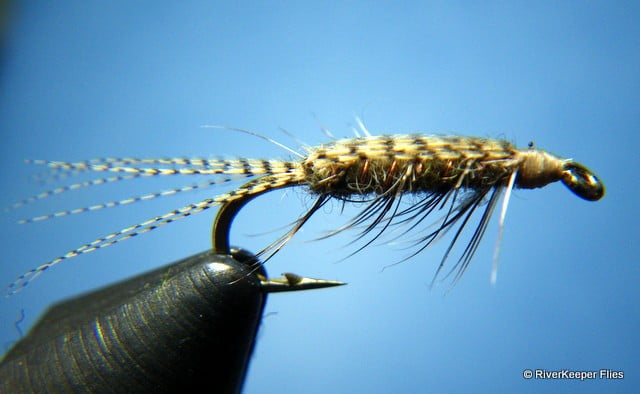 I started my fly fishing journey fishing rivers. As I ventured to new water, I was intimidated by lakes. I didn't understand the structure and where the fish lived in them. But I was aware big fish lived in lakes!
My wife and I took a class about fishing lakes from Denny Rickards many years ago. He talked about the structure, how to retrieve a fly, and successful flies.
We purchased our first lake fly lines from him, a Cortland intermediate sinking line. He taught us how to use them.
I was impressed by the simple fly patterns he developed and their ability to catch fish. I purchased his book entitled Fly-Fishing Stillwaters for Trophy Trout (1997). Doesn't the title say it all? Why wouldn't I want to catch large, trophy trout?
Denny's Callibaetis Nymph is one of the handful of flies I tied that were listed in the book. Others include Denny's Seal Bugger, Denny's A.P. Emerger, and my favorite Denny's Stillwater Nymph.
Several of Denny's fly patterns utilize Wood Duck in the fly. The tail and wingcase of this fly is a good example. The downside is the material is prone to break when a fish's tooth breaks it. But it does work!
If you can find this book, buy it. Even though it's 24 year's old, it's still has a lot of valuable information in it.
Here is his newest book, which might be available in your local fly shop. If not, here is the Amazon link.
I haven't reviewed the book, but I'm sure it's up to the same standard of the book shown above.
Tie up a few while you are waiting for the lakes to open later this year.
Enjoy…go fish, stay safe!
(John Kreft is a participant in the Amazon Services LLC Associates Program, an affiliate advertising program designed to provide a means for sites to earn advertising fees by advertising and linking to amazon.com.)