If you fish long enough, at some point your fly boxes will wear out and need to be replaced. The question is what to replace them with? It's something I dealt with recently and why I'm writing today about choosing a fly box.
In addition, it's a good time of year to get your fly boxes out and perform a little maintenance. Remove your well used flies. Steam dry flies to refresh them. You'll be amazed how this trick makes your flies look like new. Check out my YouTube video – HERE.
Here is an image of the new fly boxes I plan to use. These are Tacky fly boxes, recently purchased by Fishpond. They offer several sizes and include the Day Pack, Original, Dry Fly Box, and Big Bug Box.
These are a few of the boxes you'll see in my fly fishing pack which are being replaced.
And what we call our "carry-on" fly containers.
Why am I replacing these boxes? For a variety of reasons. Here's one of the fly boxes I plan to replace. It holds Sparkle Duns on one side and RiverKeeper Soft Hackle Cripples on the other side. Oh, there might be a few Rusty Spinners and other smaller BWO flies included. The closure lock is broken and no longer keeps my flies safely inside.
The fly box below in an inexpensive foam slot with a clear lid. These boxes have served my purpose very well. However, the slots in a couple of them no longer securely hold my flies. Over time I've found my weighted nymphs fall out of the foam slots.
So I've begun the process of filling the fly boxes. It also allows me to choose whether I simply move flies from an old box to the new box or replace them with new, fresh flies. After all, I tie flies, right?
So the question is…what's the best way to organize your fly box?
There isn't any one answer to that question. It depends.
There are many ways to organize your fly boxes. Here are a few idea:
by season
by insect hatches
by style – dry, wet, nymph
by hatches
by river or lake
by fly type – examples include PMDs, Green Drakes, caddis. terrestrials
by insect phase – nymph, emerger, cripple, dry, spinner
by pattern type – imitative, attractor, searching, impressionistic
by size, color, and pattern
Once you've decided a strategy to use, I sort by type, size, and color.
Here is an example of insect or hatch specific flies I use during the Salmonfly and Golden Stone hatch. I carry it in my pack for about six weeks when these flies are hatching in my local waters.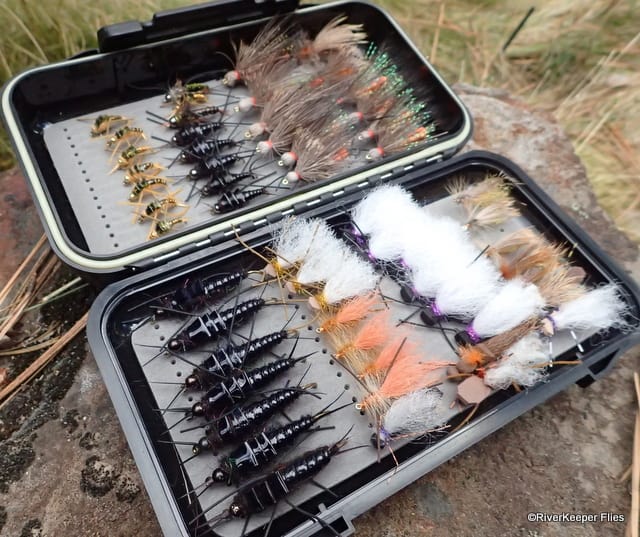 This is another example. It's an older box I use during the Green Drake hatch. This type of fly box easily holds larger, bushy flies in size 10 and 8.
When choosing a fly box, here are some design characteristics I use:
Fly box width – slim or wide depending on size of flies. Slim one for nymphs, wider boxes so dry fly wings aren't crushed.
Fly box length – I use longer boxes for large flies like the Salmonfly box above.
Boxes with foam or silicone slots vs compartments.
Magnetic boxes are effective to hold very small flies.
Clear lids can help to easily view flies in the box.
Securely keep closed with snaps or magnets.
Whichever fly box you choose, there are inherently trade-offs with each one.
What are some of the fly boxes to check out? Cliff, Tacky, C & F, Myran, Meiho, Umpqua, Orvis, and Wheatley are a few popular brands to choose from.
Lastly, I use a fly wallet to hold my streamer fly patterns.
Oh, and be sure to add your name and phone number to each box. If you fish long enough you will surely loose a fly box or two. I received a call several years ago asking if I lost a fly box. My response? "If you're calling me, I guess I did!"
Enjoy…go fish!