The fishing season has definitely changed, but I did get out last week and this rainbow came to hand using an Improved Sparkle Dun, imitating a #16 yellow mayfly…probably a Serratella mayfly rather than the Pale Morning Dun. It has 2 tails vs. 3 tails for the PMD, but do you think fish count tails?
Here is the fly…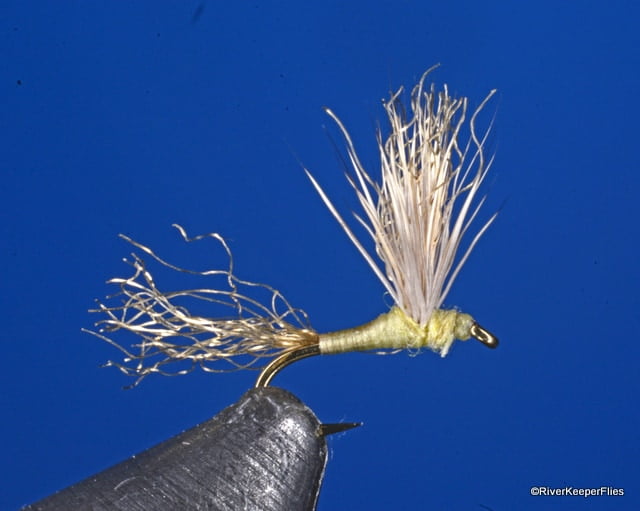 And highlighting this fly is a good segue back to tying flies.
I'm working on a couple of fly orders for customers as well as filling the Custom River and Lake Christmas fly boxes.
The Improved Sparkle Dun is one of the flies you'll find in the Custom River fly box I'm tying for Christmas. Hopefully, you saw my Christmas Ideas for Fly Fishers and Fly Tyers post.
You can find out more about obtaining these boxes by clicking HERE or the Purchase Custom River or Lake Flies button at the upper right of each page. The button is new to highlight that yes, I do sell my flies!
Did you see I plan to hold a FREE DRAWING for one dozen RiverKeeper Flies? Here's what I said in last week's post.
"Free RiverKeeper Flies – Here's your chance to win one dozen flies of your very own. I plan to hold a drawing in mid-December for all my SUBSCRIBERS and mail a dozen flies to the winner! You'll be able to choose between the Custom River Flies or Lake Flies.
Already a SUBSCRIBER? Then you're already in the drawing. Not a SUBSCRIBER? Just fill in the info located at the top right of every page to SUBSCRIBE. As a SUBSCRIBER, you'll receive an email notification and link to the latest blog post from RiverKeeper Flies. And be in the running to win one dozen flies. I'll use a random generator to pick the winner and post the winner's name."
Many of you know I keep track of the flies I tie each year. I finished my fly tying year on 10/31 with 1,420 flies tied…a little over 118 dozen and a little higher than the 100 dozen I tied last year. It was Denny's Stillwater Nymph and this fly happens to be in my Lake Flies fly box you can purchase.
Learn more about my fly tying year in a post I wrote last year entitled Seasons Change.
But if you don't need another fly box, just fill out the comment in the Leave a Reply box on the bottom of any page to purchase whatever flies you'd like.
Lastly, I'll leave you with a few odds 'n' ends…
I tied a few flies at the Pacific NW Fly Tyers Rondezvous in Portland last Saturday. Thanks to those regular readers of RiverKeeper Flies who stopped by to say "hi" and watch me tie!
And for those of you living in Central Oregon, I'll be at the Sunriver Anglers meeting on Thursday (11/19) to give a presentation on my beloved Metolius River. Looking forward to it!
Well, back to the fly tying bench and crank out a few more flies…
Enjoy…go fish!