Summer's over. It's Fall and the weather is just beginning to turn. My wife doesn't like hearing that. But what does that mean to a fly fisher? Well, October is just around the corner and I saw a few October Caddis on the river last week. I thought about how important they are to the fish.
These bugs are BIG. I'm talking about a size 8 caddis pattern, not the familiar size 16 & 18 caddis, pale morning duns (PMD) and blue wing olives (BWO) the fish have been eating lately. Every once in a while, you'll see a big, splashy rise. Maybe it was a fish taking an October Caddis!
Here is a fly I tied and fished last year. It's a slight variation to a standard Elk Hair Caddis fly pattern. Think I'll call it the RiverKeeper October Caddis!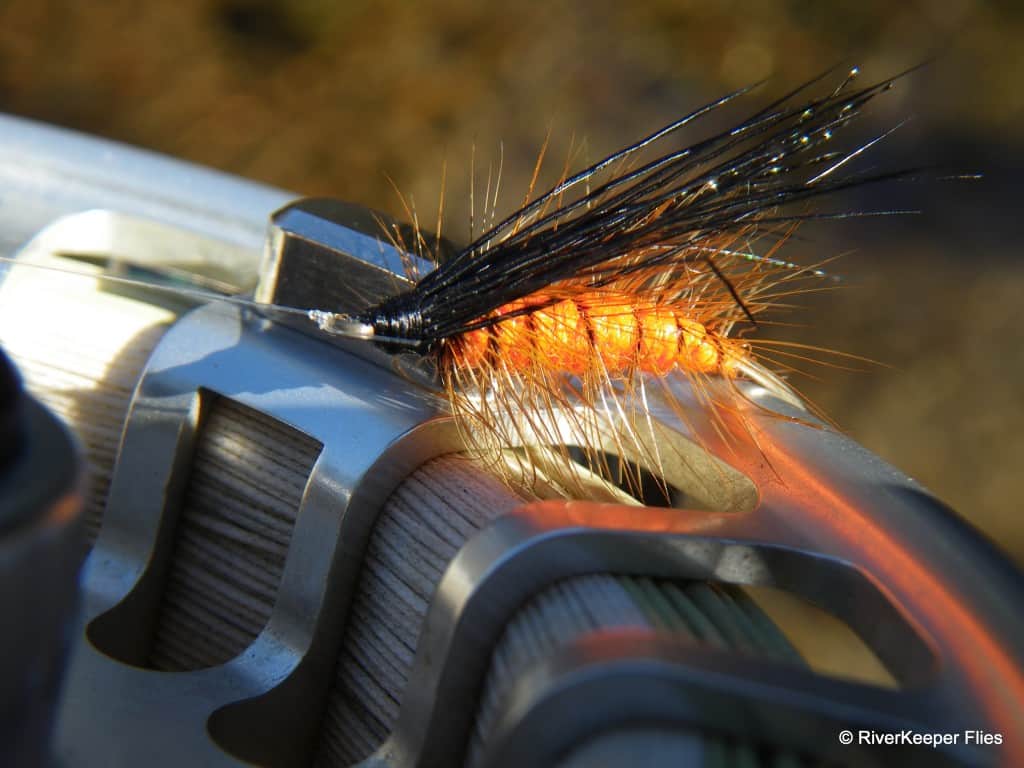 Now…time for a quick entomology lesson.
October Cased Caddis
Most of a caddis' life is spent in the larval stage inside a case, which they build from small rocks found on the stream bed. Prior to hatching, you'll find these bugs crawling to the edge of riffles and runs, dragging their cases with them. They seal off the case opening and pupate to their next phase of life. When the time is right, the pupa climbs out of the case and swim to the surface. They crawl out on a log or rock and transition the final time to an adult. The back of the pupa opens and out crawls a winged adult. (For some spectacular pictures of this transition, check out Arlen Thomason's Bug Waters). Generally, this transition from an aquatic insect to an adult can be a terrific time to fish a caddis hatch. But the October Caddis hatch isn't one of them. They hatch at night when it's illegal for us to fish.
Adults spend time on the stream-side vegetation. Take a little break from fishing and look through the leaves. I'm sure you will find some. As the day warms, the adults become more active. You'll find the females flying over the river and dive-bombing the water with a splat to lay their eggs and begin the next generation. That's the time to pull out an adult pattern and tie it on your leader.
Fish an October Caddis pattern in the afternoon and evening when the adults are most active. I blind-cast these when I don't see any fish rising and WHAM! Other times, cast it to a fish that's eating other bugs and see if they'll eat it. An occasional twitch of the rod tip will provide movement similar to the real caddis. Give it a try.
October Caddis begin hatching about this time of year, but I see them sporadically throughout the year on the Metolius River. I've heard about tremendous hatches on other rivers. Perhaps it's your home water.
Celebrate the changing seasons by getting out on the river.
But you better be ready!
PS…here is a picture of the cased caddis in a vial. This is how I keep the bugs after I've collected them on the water. Easy to do. Just purchase some vials and Purell Hand Sanitizer.