I was watching the river last week, waiting for bugs to hatch and fish rise and began thinking about this week's post. What topic should I write about? I finally noticed a couple of subtle rings from trout sipping insects. I wonder what they were eating? I tied on a dry fly that didn't work and decided to try a different fly pattern. I recalled different conversations with relatively new fly fishers asking how long to fish a fly before changing flies. I've never had a good answer for them. So today, I'll provide a few thoughts about what I consider when changing flies.
Before I get too far, here are links to a couple new fly tying videos I posted to my RiverKeeper Flies YouTube channel recently. I hope I'm able to help out my fly tying friends learn to tie these effective flies.
I like to fish with dry flies. I enjoy walking the river, searching for rising fish. Many times, I'll notice a barely perceptible ring where a fish sipped an insect floating downstream. It might be a size 16 Little Olive Stone like the one in the image below.
These insects are easy pickings for trout because of the commotion made by the fluttering wings. It's quite difficult to see them on the surface because of their flat profile. Look closer to the shore and you might find one and help solve the mystery for you.
Recently, I noticed a couple of fish working downstream, making one of those barely perceptible rings. I wondered what they are eating.
As I walked down to a spot I could cast, I watched the water to see if I could locate a mayfly. Why a mayfly, you ask?
Well, on my home waters of the Metolius, it is a prolific producer of mayflies this time of year. I look for the fall Green Drakes, Flavs, Pale Morning Duns (PMDs), and Blue Wing Olives (BWOs).
If you are like me, I'll gravitate to imitate the largest bug. Why? I'm not sure. Perhaps it's just human nature for us fly fishers to wish the fish are eating insects from these long anticipated hatches. I keep my eye out for them floating on the water's surface and fish rising to eat them. It's a wonderful sight when it happens!
But I digress. While I had seen some of the larger mayflies earlier, I didn't notice them in the area where I had seen rising fish.
What I did see were a few yellow PMDs. I tied on my favorite imitation, a size 16 Improved Sparkle Dun. It imitates a PMD, unable to fully hatch from the nymphal shuck.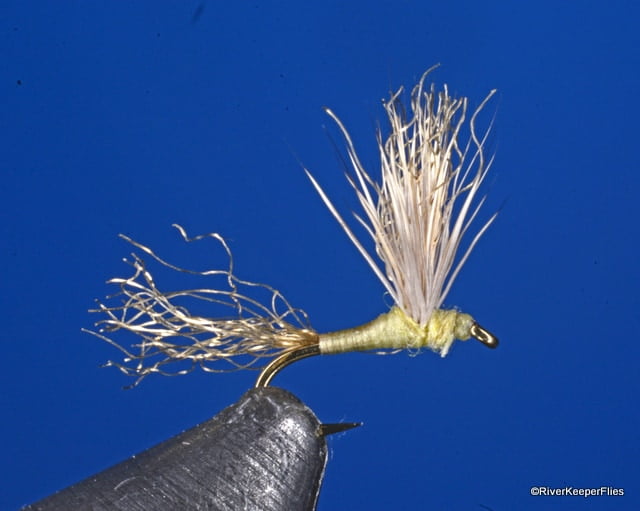 I carefully maneuvered into position, hoping I didn't spook the fish. They were rising less than a rod length from shore and it was a tough cast with the brush behind me and grasses in front.
I was able to get what I thought were some good drag-free drifts of the fly over the fish. There were three fish working close to me, but none of them rose to my fly. I targeted each one several times without having them rise to my fly. They continued to rise.
I tried to identify insects floating in their feeding lane, but couldn't see them. Were they eating emergers? Cripples?
So back to today's question…when do I change flies.
Well, I had covered the fish and couldn't coax them to my fly. I might have made 10 to 12 casts to each fish. I felt if they were going to eat my fly, they would have done so. Time for a change.
Here are images of two distinct profiles. The one on the left is a PMD floating with wings held high. On the right, both wings are caught in the surface film. Imagine you are the trout looking up at insects floating downstream. The PMD on the left is ready for flight; the other won't be flying anywhere soon with those wings caught in the surface.
That's what I decided to imitate and selected one of my RiverKeeper Soft Hackle Cripple flies.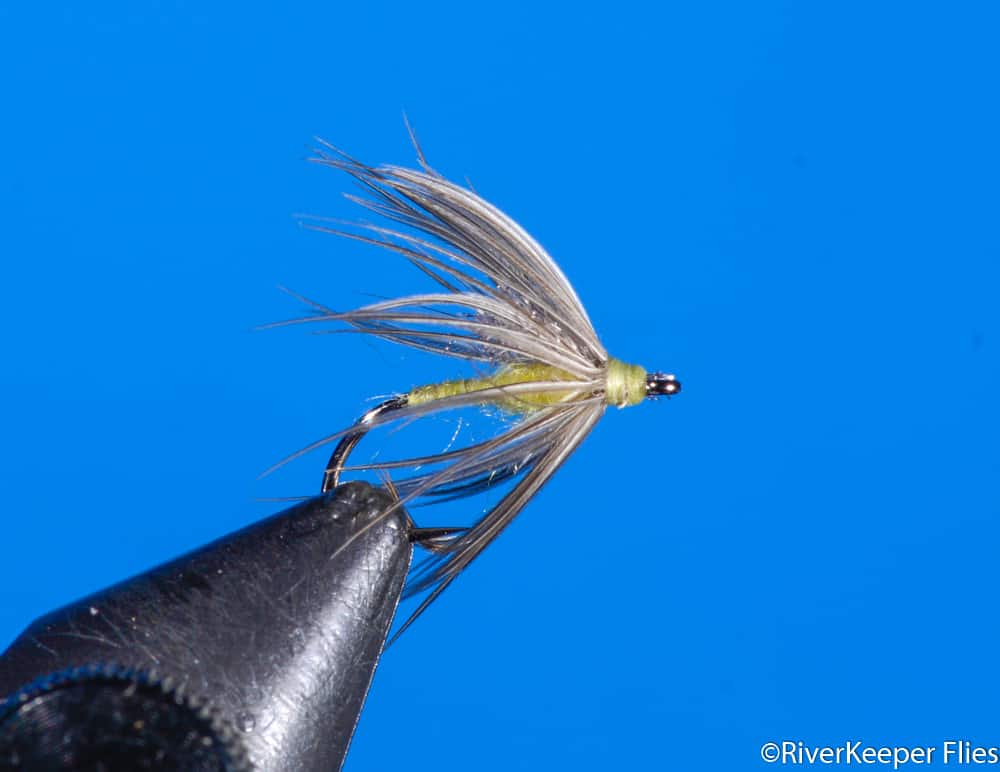 A few casts later, a 16 inch Rainbow ate my fly.
I lucked out!
Observation is key to selecting flies. What can you see on the surface? Or flying around the water? Knowing what hatches to expect certainly helps in the selection process.
We choose flies to imitate one of the many flies found on the water. Sometimes, a fish will eat your fly even if they ate a different bug before. I call that opportunistic.
Other times, the trout is keyed into a specific insect and phase. By phase, it might be a fly emerging from the nymphal shuck, a dun with the nymphal shuck caught on its body, or a fully hatched dun with one or both wings caught in the surface film. Multitudes of flies imitate all these phases.
Remember the image of that Brown Trout above?
My fishing partner had a similar experience.
She had gone through a few different flies to imitate different insects…PMD…BWO…what were they eating?
She asked me "what would you tie on"?
I suggested a small Iris Caddis. Why? It had been successful on previous trips and the fish didn't seem to want any mayflies.
It worked and she ended up landing the beautiful Brown Trout. Lucky guess on my part.
To summarize, when do I change flies? When I don't have confidence in the fly I'm using. I thought it might work, but the fish told me otherwise. All of a sudden a different thought pops into my head and I give it a try. I've used my observation skills to see what insects are available to the trout and what hasn't worked so far.
Logically, what I provided makes sense, right?
At times, we might make 20 casts to a fish we've seen rising sporadically. On the 21st cast, they rise and eat the fly. Or we let the other person cast to the same fish and it takes their fly on the first or second drift. Why? I wish I could offer a logical explanation, but I can't.
Sometimes nothing works!
While frustrating, it's a challenge I enjoy.
Lastly, here are a couple more images from last week where I captured a Caddis (left) and Green Drake Spinner (right) floating down the river.
Always keep your eyes open!
Enjoy…go fish!