As they say…"and fun was had by all". I had a great time last week at the 50th Anniversary of the International Federation of Fly Fishers Fair in Bend, Oregon. So I thought it would be appropriate to say goodbye IFFF.
I started the week finishing a few flies (3 dozen in total) RiverKeeper Flies provided to the Women's University for fishing East Lake. And I hear several women not only saw fish, but caught a few as well…some using my flies! I tied Zebra Midges and OB2Wanchironomie for them to fish with. Karen and I tied up chironomid rigs for the ladies so they could quickly switch styles of fishing.
Here's how I set them up:
Chironomid rig set-up
Cut a 5 foot section of fluorocarbon leader.
Tie top fly on one end and tippet ring on the other. I use a pupa imitation like the OB2Wanchironomie in black/silver or black/red for the top fly.
Cut an 18″ section of fluorocarbon leader.
Tie the short section around the long leader just above the fly using your favorite knot. I like the Improved Clinch Knot. Tighten and slide down firmly to fly.
Tie on bottom fly. I use a Zebra Midge in olive.
Attach regular leader to tippet ring. Be sure to add strike indicator to leader before tying on the tippet ring!
This set-up allows quick change of the upper fly. Just slide the short section up, tie on another top fly and slide knot back snug to fly.
And the flies I tied for them:
I decided to take the drift boat to East Lake and be there to help, if necessary. Well, they got along just fine without me and did their thing…oh, did I mention they caught fish? So did I.
Here is the armada getting a little instruction:
This fish took a RiverKeeper Callibaetis Emerger.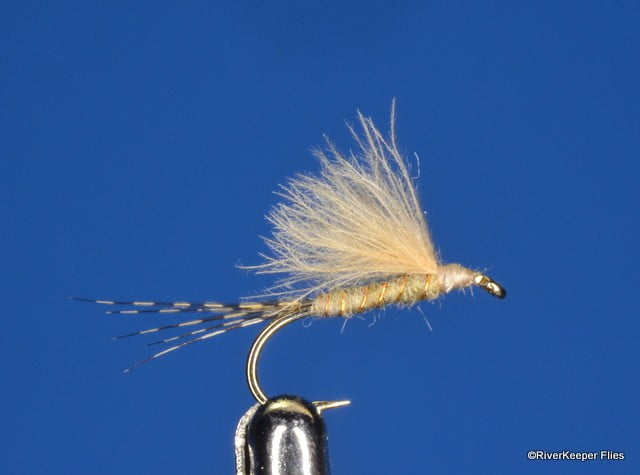 I think they had a great time!
Tuesday I attended the Fly Tyer's Rendezvous. I took a dozen flies to participate in the fly box swap and was fortunate to get a box of Frank Johnson flies. Frank received the Buz Buszek award in 1984. Here are a couple of pictures of the flies I won.
Thursday I joined The Fly Fisher's Place casting team (my hometown fly shop) as one of the foursome participating in the 9-hole Casting Tournament at The Old Mill in Bend. This 12-hole course is the only one in North America. Casting the course forces one to try different casting strokes…like lots of roll casts. Seems like I don't use this cast much fishing local waters. I practiced a little before hand to brush up on my casting technique.
And our Next Cast Flyfishers fielded a youth team as well. They had a great time.
Here is one of the roll cast holes.
Oh, did I mention I WON the PRO classification with a score of 50. Never in my wildest dreams did I think I would win!
And I tied flies all day Friday. I just tied a few "fishing" flies. There were some very impressive fly tiers! Saw quite a few people I knew.
Wow, I'm exhausted reliving the week!