I've been fishing and tying flies in the last couple weeks. You're probably not surprised I'm fishing, because October is the last month of great fly fishing and I usually spend a lot of time on the river. But I've received several new fly tying orders I'm trying to complete, plus I've lost a few flies to fish AND trees. So I need to replenish my fly box as well.
I was able to get a fly back from this beautiful Rainbow Trout caught a couple weeks ago and found another fly in it's mouth…mine from a previous day. Is that a sign I fish too much?
(Before I forget, I'm traveling to Salem, OR on Thursday to give my popular Fly Fishing Road Trips presentation at the Santiam Flycasters monthly meeting (Pringle Community Center). I'll be talking about some of our favorite fishing locations in Montana, Idaho, and Washington – the Madison, Stillwater, Big Hole, St Joe, and Upper Columbia rivers, along with what to take, where to stay and lessons learned.)
If you've been reading my RiverKeeper Flies weekly posts, you already know how much I enjoy dry fly fishing. So you won't be surprised I've been tying lots of dry flies!
Most days, you'll see a Sparkle Dun or RiverKeeper Soft Hackle Cripple on the end of my line. And when customers ask for fly recommendations, guess what flies I recommend?
RiverKeeper Soft Hackle Cripple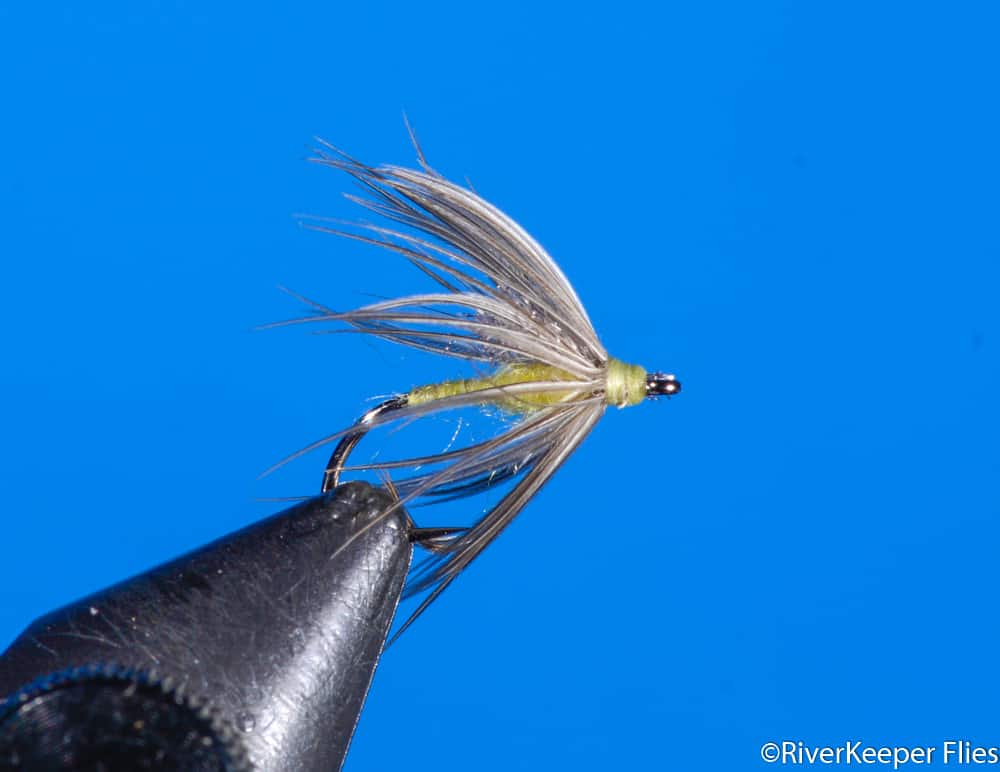 Some people might call me a little anal, but I've been keeping track of the number of flies I tie for the last few years. I always wondered how many flies I tie in a given year, so I decided to track them.
Last week, I tied number 2,000. Yes, 2,000 flies since January 1. That's a lot of flies!
It happened to be a classic wet fly…a Starling and Purple soft hackle designed to fish wet.
Here is the order of a dozen Starling and Purple soft hackles.
I need to return to the vise and finish some #20 Improved Sparkle Dun BWO flies for the provider box.
Yes, they catch fish…
Here are a few pics I couldn't resist sharing… taken on Sparkle Duns and the RiverKeeper Soft Hackle Cripple.
I love fall fishing!
Lastly, I've listed a couple odds and ends that may interest you.
The annual Pacific Northwest Fly Tyers Rendezvous at the Jackson Armory by the Portland International Airport on Saturday is November 10. I plan to be there tying flies all day, so be sure to stop by and say "hi" if you are in the Portland – Metro area.
Be sure to follow me on Facebook (@RiverKeeperFlies) and/or Instagram (RiverKeeperFlies) as I post a few pictures and thoughts between posts.
Enjoy…go fish!