I like to catch steelhead swinging flies or with nymphs.
DESCHUTES STEELHEAD
How do you catch steelhead?
Do you prefer to swing beautiful flies for steelhead?
Or how about tying on a big stonefly nymph and using a strike indicator?
Well, that was my dilemma last week. I was fortunate to spend a week on the Deschutes river steelhead fishing. The first few days were with friends from my fly club. I was invited to join Sherry Steele because her husband Eric was injured and couldn't fish. I was to take his place. Hmmm…should I go or not? What should I do? You guessed it – I fished.
Sherry had arranged a 2 day trip with Dan Anthon, head guide at The Flyfisher's Place in Sisters, my local fly shop. And Sherry was looking for her first steelhead.
Dan had us swinging flies at first light. He wanted to be first at the island and that meant getting up at 4 am, chugging coffee and downing oatmeal. We launching at 5:15 am! Yes, it was dark…very dark. Sunrise is around 7 am this time of year and we could begin fishing around 6:30. We floated about 1/2 mile in the dark with my headlamp lighting the riffles for Dan. No problem – he's experienced in that section and we made it safe and sound. And we waited…and waited.
I looked up at the stars and noticed a bright "satellite" streaking across the sky. Too bright for a satellite. It was the International Space Station. Must be a sign. It was good mojo.
As I mentioned above, Dan had us swinging flies at first light. I cast…and cast. That's steelheading, isn't it? The fish of a thousand casts.
I had a tug. Good sign, right?
More casts. I hook up for a few head shakes…and it's off.
Sherry hooks up on her first steelhead – a NICE fish. It runs…she gets control…it runs…she gets control. That continues as the fish gets closer…then it pops off. Ohhhh, that's steelheading! I think she was swinging a Silver Hilton variation.
Back to swinging flies. Nothing.
Dan said it was time to try some nymphs with the two-handed rod. I'd nymphed for steelhead before, but he showed me the lane to fish with a cast or two. So I cast the rod. The strike indicator traveled about 20 yards and down it goes. I pull back and I was hooked up. This is my fish:
Caught it on a Double Bead Peacock Stone Nymph. In the same water I had been swinging flies.
Double Bead Peacock Stone Nymph
Now it was Sherry's turn. She takes the two-handed rod and begins to drift nymphs too. She cast for a while and I decided to pick up my single-hand rod, follow her down, and cast into a next slot farther out. Well, I hooked up again using one of my flies…the RiverKeeper Stonefly Nymph.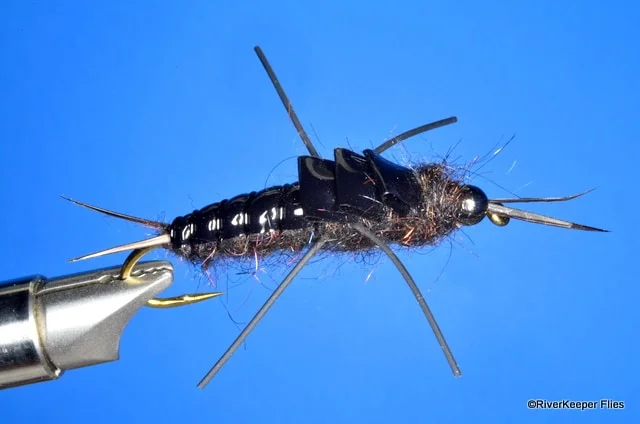 A nice steelhead…
Deschutes River Steelhead
That was it for me, but Sherry ended up landing 2 fish. Here is her first steelhead – note the big smile on her face!
Dan & Sherry with her first
They left on Wednesday morning and I was left to fish alone. Went out late afternoon, back to the same spot Sherry landed her 2 fish. Since she caught her steelhead on nymphs, I decided to try that first. Ten minutes later I was into my first. And another 20 minutes I had the second one to hand. Both on the RiverKeeper Stonefly Nymph.
And that was it. It was a great run.
Final count – 9 fish hooked, 6 fish landed. Those 6 fish were all hooked with nymphs.
So you be the judge. I'd rather swing beautiful flies and hook a steelhead. But when that isn't working, I'll fish a nymph any day to land these special fish.
Lastly, if you didn't get a chance to read my Steelhead Flies blog post where I was getting ready for my trip, be sure to check it out!
Enjoy…go fish!