I've been tying flies lately…lots of flies. Sparkle Duns galore. They've been flying off the vise. Between a large order that includes 9 dozen Sparkle Duns I'm tying for a good customer and another dozen for my provider box, I've tied 10 dozen Sparkle Duns in the last 2 weeks, from size 8 down to size 20 and everything in between.
Improved Sparkle Duns – Size 20 Sulfurs
Size 8 Green Drake Sparkle Duns
I love to tie and fish Sparkle Duns. I use them to imitate Blue Wing Olives, Pale Morning Duns, March Browns, and Green Drakes to name a few. I don't know why they work, they just do!
The Sparkle Dun is a Craig Matthews pattern from Blue Ribbon Flies in West Yellowstone, MT. I tie this simple, yet effective fly in size 22 Blue Wing Olive up to a size 8 Green Drake.
The fly is designed to imitate an adult mayfly trying to escape it's nymphal shuck. That makes it an emerger or cripple. I really believe in using flies to imitate the transition to an adult. Somehow, the fish know they don't have to work as hard to eat them because they can't get away quickly.
I'm headed to Salem today to teach a couple flies for Project Healing Waters, my RiverKeeper Soft Hackle Cripple and…you guessed it, the Sparkle Dun.
If you are a frequent reader of RiverKeeper Flies, you know I've worked with Project Healing Waters in Central Oregon for several years. I'll be teaching Clark's Golden Stone on Thursday to my local group.
Clark's Golden Stone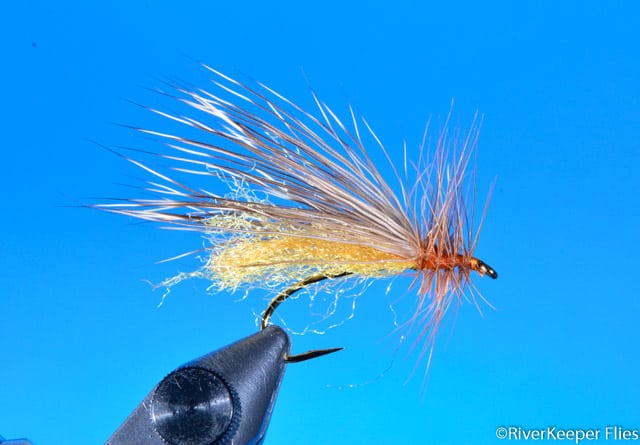 I've noticed lots of interest recently for my Custom Flies page. They seem to be popular these days. Several customers have contacted me lately and I'm excited to be tying flies for them. Some flies are new to me, which I really like. You'll be seeing these in the near future when I complete that order. If you want to get on the list, please contact me soon as I'm at least 3 to 4 weeks out from completing orders.
Back to the Sparkle Duns. I have 1 1/2 dozen flies to finish and that order will be complete.
My next customer has an exciting project for me…spey flies. I'm really looking forward to tying them. I don't get a lot of opportunity to tie them. Here's one of the spey flies I tied a couple of years ago – the Lady Caroline.
Enjoy…go fish!