In this week's post, I wanted to share a fish story that happened to me last week.
How many times do you walk along the river and say "there's gotta be a fish there"? It happens to me frequently. I've been lucky enough to fish a lot, caught some fish over the years and perhaps am starting to think like a fish. I remember where I caught fish and catalog those lies and look for similar spots…hence…"there's gotta be a fish there"!
It happened to me last week. I'm walking and looking for noses because there are a few bugs out. Caddis, crane flies, little olive stones, PMD, BWO to name a few and don't forget an occasional beetle or ant.
I walked slowly, checking out this spot I "feel" holds a fish and the fish gods looked down on me and smiled. I see it…a slow, lazy rise! Beautiful red stripe along the side of the fish. He ate a PMD. How do I know it was a PMD? Well, when I see bugs floating downstream, I follow them to see if a nose will appear. This strategy has rewarded me many times over. And PMDs were floating through the feeding trough. I watched them. He ate one.
So now I know there is a fish. Will it eat again? Yup, this is my lucky day. Sometimes they only eat one bug. Why? I have no idea and it drives me crazy. If they come back and eat two or three more bugs over a 5 to 10 minute period, I call it "consistently sporadic". But as I said, this was my lucky day and he was hungry.
I watched the river, trying to read how the current was working and the best spot for my fly to land and float over his head. I follow some small foam which helps determine the current. Remember my recent post – Foam is Home?
Now comes the moment of truth. I'll only get one chance. I need the perfect drift…ok, that's a little dramatic, but it needs to be a GOOD drift where the fly floats drag-free, gets close to the foam and debris caught along the shore, doesn't hook the shore line, time the drift so the fish hasn't just risen before the fly floats by…well, you get the picture…I need some luck!
So I tied on a PMD Sparkle Dun.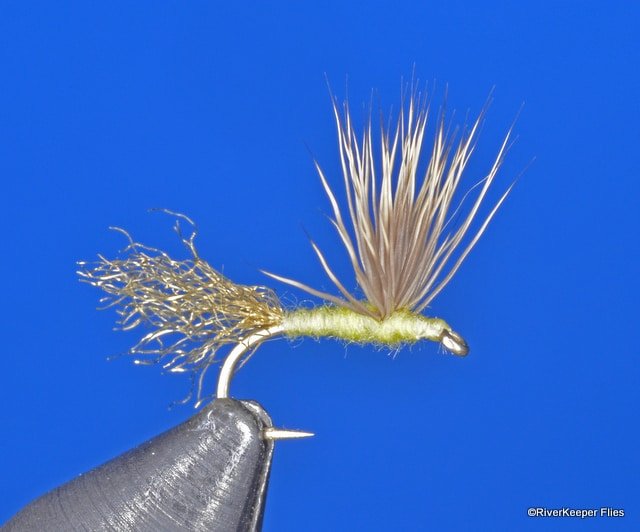 I know that's what the fish was eating. I started to cast. A decent drift…and I waited…nothing. I didn't hook any debris and I slowly lift the rod for a backcast so as to not disturb the water, and cast again. Nothing.
The third cast. I wait with anticipation as the fly finds the feeding trough and the fish begins to rise. I can see it…a beautiful red stripe that doesn't quite match the color of the river bottom. The nose comes out of the water. A mouth appears and takes the Sparkle Dun. I lift the rod. I feel him…briefly as we part ways. Arrrggg! He broke off. I replay the scene in my head to see if I did anything wrong, but I really didn't care. I had accomplished most of what I wanted. Sure, I would have liked to play and land the fish, but it felt good. I was stalking the fish and I had partially succeeded.
I sat on the shore to see if the fish would rise again. After a few minutes that's exactly what happened. This time I got the camera out and hoped I'd be lucky enough to capture the moment.
If you look closely, you can make out the red stripe on the gill plate and see the fishes eye.
This picture captures the moment where he turns after eating a bug.
I put a couple more casts over the fish, but it never came back. I knew I would.
Three days later I was back.
No PMDs today. I wonder if he's there. I notice a few caddis flitting over the water flying upstream. I see one floating down and a fish rises. Not the one I'm stalking, another one! I smile.
I patiently watch for more bugs and a few caddis float through the feeding trough…and a rise. Only this time, it wasn't a nose. Most of the fishes head came out of the water and ate a caddis.
I smile again. I recognize the brilliant red stripe.
I pull out my caddis fly box and find a dark fly. This one is a Deer Hair Caddis, exactly the same as an Elk Hair Caddis, just using deer for the wing. I attach it to the 6x tippet with an Improved Clinch Knot and begin casting.
It only took one. This time the line stayed tight and after a good fight, he came to the net.
My day was made. But not over. I was lucky enough to catch a few more that day, but this fish was the most memorable.
I know where he lives now.
I'll be back!