Here is the fly pattern sheet for the Callibaetis Hatchmaster.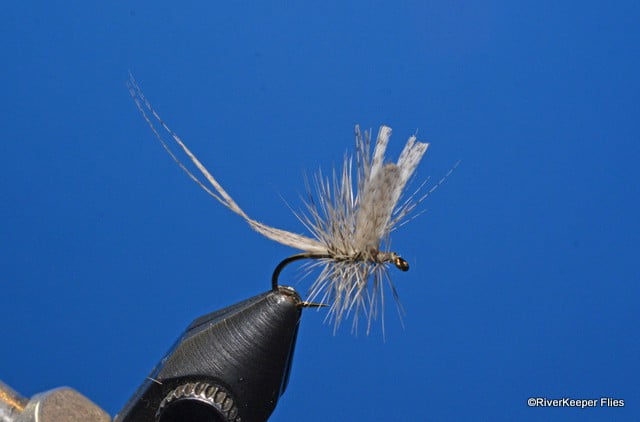 Materials
Daiichi 1310, TMC 100, Dai Riki 300, #14 – 18
Directions:
Begin thread on hook and wrap back to hook point.
Select mallard flank feather and stroke most fibers back.
With fibers stroked backwards, hold them slightly toward you and place a soft thread wrap over hackle. Thread torque will position feather on top of hook.
Continue to wrap thread forward with touching turns while holding feather. Stop at 75% mark. Pull remaining feather straight up and place several thread wraps in front of feather to prop upward. This will create the wing.
Prepare grizzly hackle and tie in behind wing. Move thread forward to tie off point behind eye.
Wrap 2 or 3 turns of hackle behind wing and 2 or 3 turns in front of hackle. Tie off and trip hackle.
Whip finish.
Trim wing to length.
Trim tail by keeping 2 or 3 fibers on each side of stem.
Jeff Perin's Variation:
TMC 100, Dai Riki 305, #16 or any dry fly hook #14 – 18
Grizzly (undersize to size 18}
Notes
Be sure to check out the Throw Back Thursday Fly post – Hatchmaster
This fly is sometimes called the Two-Feather Mayfly
This is a style of fly and any mayfly can be tied in this style – BWO, PMD, Green Drake