Thanksgiving is only a few days away, which means winter is right around the corner. Do you know what that means? Blue Wing Olives will be the mayflies I plan to imitate. Gone are the bigger mayflies. What will get me through the next few months are hatches of BWO's. So are you ready for winter and Blue Wing Olives?
And here is a picture of one from February 2017 in the snow.
I've fished using BWO imitations in the last month. They were mixed with PMD's, but I'm guessing the PMD's are pretty much finished for the year.
I written about Blue Wing Olive mayflies in previous posts. Here is a portion of a post from a couple years ago.
"I get confused what to call these bugs…Blue Wing Olives…Blue Wings… BWOs…Baetis … I'm no expert, but I think they are all the same insect. Or close enough for a fly fisher.
To be sure, I consulted one of my go-to books to review what I thought I knew…BugWater by Arlen Thomason. Arlen mostly discusses bugs in layman's terms, although there is a little entomology involved, so you will slowly learn how the insect hatches, time of hatches, and characteristics of bugs that may help you catch more fish. Check out his book on my Favorite Fly Fishing and Fly Tying Books in the Resources tab.
BWOs are the smallest of mayflies found on rivers. A large one will be size 16, but can easily be a size 22 or 24. Can you see those tiny flies on the water? Tough to do. I tend to tie and fish size 18 and 20 imitations.
They are found in moving water and can hatch almost any month of the year. Blue Wings are quite important during the winter months because hardly any other bugs hatch. And trout are very opportunistic so this is a match made in heaven for the dry fly fisher.
So I wonder why they call them Blue Wings? The wings don't look blue to me! They are gray or what a fly tyer would call "dun".
And the second part of the name…Olives. The bodies of real insects vary greatly from dark olive to a non-descriptive light brown. This is when it's a definite advantage being a fly tyer because I can change the body color to my hearts content, go to the river and give it a try.
I tie them using Superfine dubbing in Blue Winged Olive, Callibaetis, Dark Tan, and a custom color I blend from several different dubbings.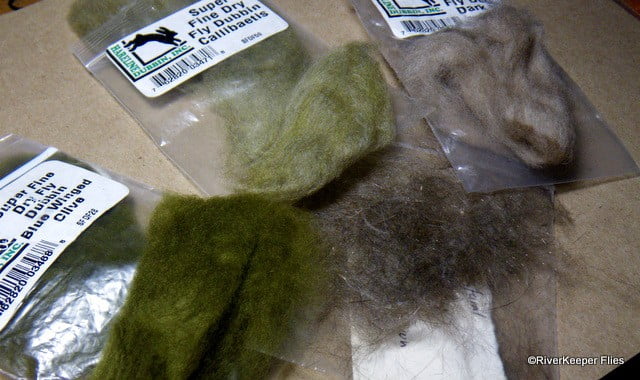 Here is a picture of the real deal I found on the water last week. See how one of the BWO's wings are caught in the water?"
Hopefully, this post from a couple of years ago provided you with relevant information about BWO's.
The flies below are several I plan to carry when fishing the Blue Wing Olive hatch.
RiverKeeper Soft Hackle Cripple
I plan to give these nymphs a chance this winter. I haven't fished them, but I plan to.
The old stand-by nymphs will still work too.
These are a few of my favorite blue wing olive imitations. Tie them in sizes 16 – 22 and you'll end up with some very effective flies to fool fish. I'll be tying these flies in the next few weeks to fill up my fly box. For more ideas, check out the Mayflies fly pattern page.
Maybe I'll head to the river and complete a little "research".
Enjoy…go fish!