I'm surprised at the variety of flies I tie. I tie a lot of flies for my customers and receive feedback from some of them. I always enjoy reading their notes to me and it's always rewarding to see the fruits of my labor. I pleased to see my flies work!
Not the normal trout picture, is it? Nope, it's a Rooster Fish from Baja. If you look closely, you'll still see a fly in the fish's mouth. It's a fly I tied!
I've stated I'm not a commercial fly tyer. I call myself a custom fly tyer. I tie a lot of different flies.
I get some interesting projects on occasion. This was one of them.
I was asked if I could tie some EP Bait Fish flies to imitate sardina in Baja. I was intrigued.
They are normally tied with EP Fibers. I received a couple examples of the flies that had worked for him in previous trips. Researching these flies on YouTube, I learned several methods of tying them. The sample was unique though. It included hackle for a tail. I tied several without the tail as well, pictured in the middle above.
I guess they worked! Here's another image from the salt.
Another recent fly is a variation to Wright's Fluttering Caddis. The original fly pattern utilized mink for the tail. Variants were made with hackle fibers, which is what I used. Haven't fished it or received feedback from my customer yet. I'll have to wait a bit.
The Improved F Fly has become a staple in my fly box. I've found it an effective fly pattern for a size 16 caddis. It doesn't look impressive, but I was surprised how well this fly worked and continues to work in my local waters. I first tied this fly back in 2018 after a customer asked me to tie a few for him. He ordered several in sizes 18, 20, and 22.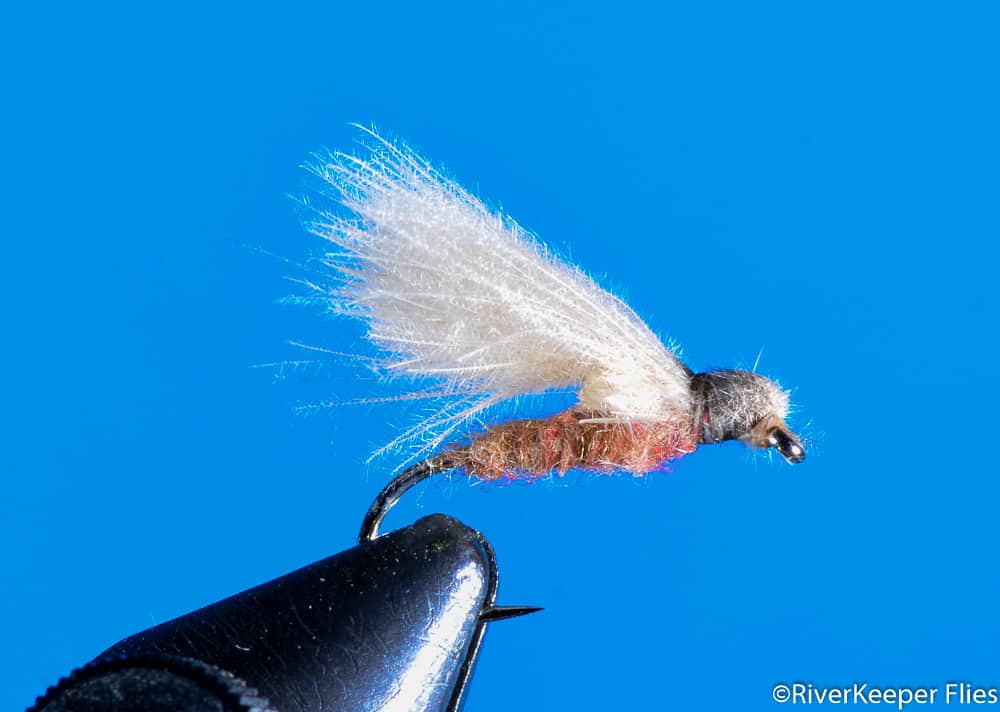 I've tied them down to size 24 just to see if I could.
The next fly was a new-to-me hopper fly pattern a customer asked me to tie. It's called Thunder Thighs. I've had fish rise to the fly and nudge it, but haven't hooked one yet. Perhaps this year will be different.
Speaking of hoppers, I finished an order with a couple older fly patterns. The first is Schroeder's Parachute Hopper.
And Dave's Hopper.
I better tie a few for me to try this summer!
Several years ago, I was asked to create a series of flies for a 40th wedding anniversary gift. It began with Taylor's Golden Spey, which I had never heard of. I created a couple variations.
I was asked to create four spey flies to celebrate an anniversary for a couple of fly fishers, their 40th. My customer doesn't fish. Turns out she found me through a Google search for custom flies.
Did you know a 40th wedding anniversary is "ruby"? I didn't either. The challenge was to use the Golden Spey picture as inspiration and tie flies for a plate which would mean something. Why the Golden Spey? It was created by Bob Taylor in 1978, the year they were married.
She asked in an email "Obviously as the name suggests it is golden but I wondered if there could be any variance in colours for the four …one for each 10 yrs." (She and the couple are Canadian) Her plan is to have the flies mounted in a ruby red box.
If you are interested in reading the story, here is the link – Spey Fly Project
Lastly, I'm heading out on our annual fly fishing road trip. First stop…the Madison River, MT.
I'll be reporting in from the road soon.
Enjoy…go fish, stay safe!