I've been tying Schroeder's Parachute Hoppers for an order and decided I needed a few as well. While I tied 2 dozen flies, it got me thinking about fishing terrestrial fly patterns and my three favorite terrestrial fly patterns I wouldn't be without.
Here they are – Schroeder's Parachute Hopper, Harrop's CDC Ant and of course Beetle Bailey. I wouldn't be without these three terrestrial fly patterns this summer.
I've already seen a few hoppers along my river and I'm headed to Montana in a few weeks and know they are deadly when the wind picks up. Perhaps that's why I tied a few hoppers for myself! Grasshoppers fall into the river and make a big commotion attempting to get out of the water. Big trout love them!
Schroeder's Parachute Hopper was featured as a Throw Back Thursday Fly. It was created in the 1970's by Ed Schroeder of Fresno, California and was one of the first fly patterns to use a parachute post to increase visibility for the fly fisher. The body stays flush on the surface while the parachute hackle helps with flotation.
Here is a picture prepping the pheasant tail legs. I think they look pretty realistic.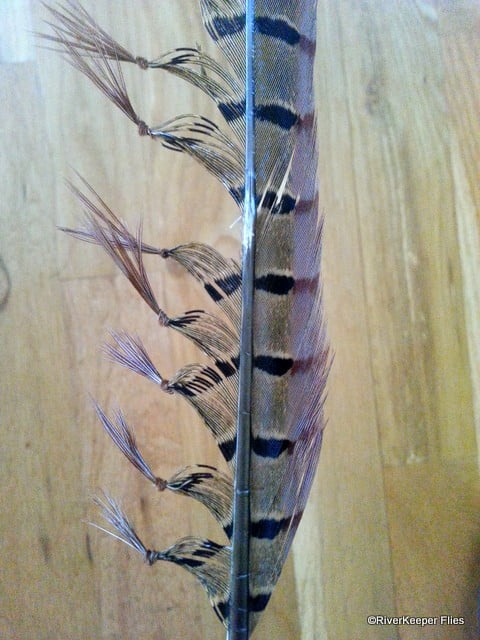 Another important terrestrial fly pattern for your fly box is Harrop's CDC Ant. I carry them in two different colors – honey and black.
Harrop's CDC Ant – Honey
Harrop's CDC Ant – Black
I love tying and fishing CDC fly patterns. I use Trouthunter CDC from Rene Harrop's fly shop located along the Henry's Fork in Island Park, Idaho. This CDC is some of the best you can find and is a joy to tie your favorite flies.
Lastly, if you're a regular reader of RiverKeeper Flies, you know how effective I think Beetle Bailey is!
It's a fly I wouldn't be without. I've caught big fish with this fly. Even when fish aren't rising, I tie Beetle Bailey on my leader and blind-cast to likely looking water. I'm still shocked when fish rise to the fly using this technique! For more insights about this fly, check out Fly Fishing with Beetles and Beetle Bailey Catches Fish, two posts featuring this fly pattern.
What are your three favorite terrestrial fly patterns?
Enjoy…go fish!