Last week found us searching for fishable water. We call that "Plan B" fly fishing. Our original plan was to spend time fishing the confluence of the Clark Fork and St. Regis river, then move to the Bitterroot and Beaverhead rivers. We delayed the start of our 2020 fly fishing road trip by a day because of the extended weather report. If you read 2020 Kelly Creek and NF Clearwater River Fly Fishing post, you'll see we struggled to catch fish during rising, high water. Several nice fish ended up in our nets, but it wasn't the quality and numbers of fish we had last year. It reminds me how timing and luck affect our fly fishing.
After fishing Kelly Creek, we drove along the NF Clearwater River to the top and over Hoodoo Pass into Superior, MT for the next phase of our fly fishing road trip. Our plan was to fish the confluence of the St. Regis and Clark Fork rivers. It's a stop we've made before and caught some very nice fish.
Well, high water didn't allow it.
It may be difficult to see in the image, but look closely for the brown, muddy water of the Clark Fork, and gin-clear water from the St. Regis River.
We drove upstream to have lunch and watch the river. It was our lucky day as we watched a moose and baby cross the St. Regis River.
Yes, the baby made it just fine. Look closely and you can see it shaking water from it's coat.
After driving around, we were able to find some access. Fishing under the I-90 bridge wasn't my first choice, but we did fish. The water looked good and we covered the water to no avail.
We did pick up a couple of fish as we walked upstream. I finally broke down and tied on some nymphs. A Pleasant Tail Perdigon Variant nymph picked up a couple small fish, a Rainbow Trout and Mountain Whitefish.
At least I didn't get skunked!
One of the reasons we stop in St. Regis is because of the Flathead cherries. They are Dancingtrout's favorite cherries. Ok, I might like them as well!
Visiting family in Missoula and Hamilton with social distancing was our next stop. And yes, the Bitterroot River flows through both. Again, we found high water. The image below is the Bitterroot River below Hamilton. It may not show how high and off-color the water was.
We have fished the West Fork of the Bitterroot and decided to drive upstream and see if it was fishable.
Dancingtrout found the pool with a few 6 inch fish and I was skunked. Enough of that…time to move on and leave the river for another day when the water gets into fishable shape.
Our drive over through Wisdom, MT and the Big Hole River is always scenic and enjoyable. I like to stop at Fish Trap access. We've caught some nice fish there in past years (use the "search" function at the top right of each page and type in "Big Hole" to see previous trips).
It was slow there too.
Dancingtrout is waiting for rising fish in the image above.
We were able to land a couple of fish, a Brook and Brown trout.
The image above is the Brook Trout with the Chernobyl Ant I used; below a small Brown Trout.
I fished another spot lower in the river, but the river was higher than we liked. I'll call it "51 Brown Trout Lane" (no, that isn't a real address).
We camped one night at Fish Trap. Because the river level was higher than we liked, we implemented Plan B and drove to the Beaverhead River. Perhaps we could finally find some good fishing!
We fish below Clark Canyon Dam in this eddy. Notice how close it is to I-15. See the semi-truck?
But what the river lacks in esthetics, it makes up for it with the quality fish that live in it…and we are lucky enough to catch.
Don't stick your fingers in their mouth to retrieve your fly. Look at those teeth!
Yellow Sally stoneflies were flying around en masse.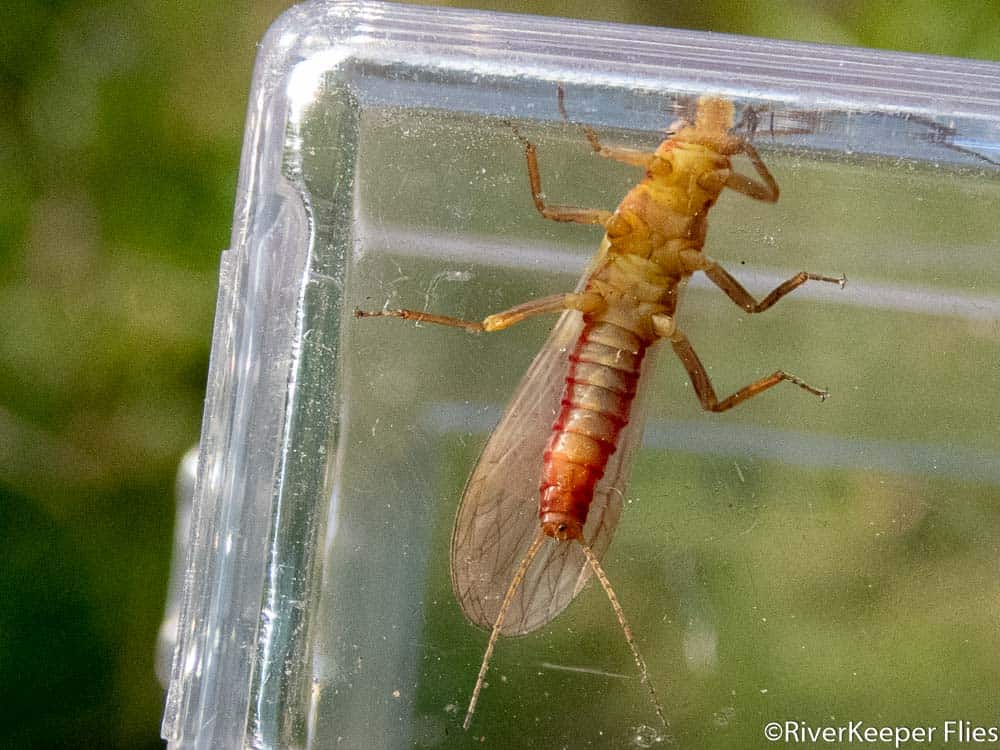 I tried an imitation, but the fly that worked best was a size 16 tan Iris Caddis. Why? I don't know.
The fish tore it apart!
Here is what a new one looks like.
The Beaverhead River is an interesting one. It's basically an irrigation ditch.
The river is heavily fished with lots of guide boats floating the upper river. We found a nice camp spot at Henneberry access and boat ramp. This is the river below.
And the water below our camp. I didn't fish it. Found it the morning we planned to leave. Someone else had camped next to it. It looked like good water.
But watch out for these critters…
It was dead, having been run over.
I don't like them one bit, but I recognize they are good for the ecosystem.
We're headed to fish the Madison River, which will be the subject of next week's post.
Here it's a sneak peak…
Enjoy…go fish, stay safe!