This week's Throw Back Thursday Fly is Lee Clark's Stonefly.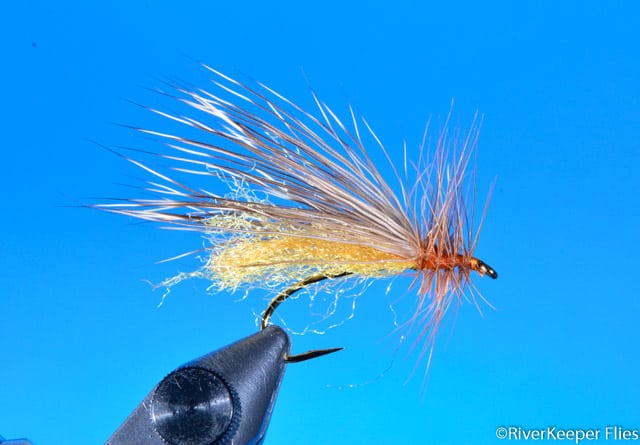 Lee Clark developed this wing-style body dressing, which "refers to flies in which the yarn is combed and tied atop the hook shank in a downwing fashion but actually serves as the body." Fly tying with Poly Yarn – (2000)
Lee was a high school art class instructor in St. Helens, OR and you can see how the "art" influenced this fly. He tells his story of the fly development in Chapter 6 of his book – The Adventures of the Clark's Stonefly.
Lee is inquisitive and wasn't shy in asking those catching fish what flies they were using. He describes a "Railroad" fly given him by a railroad maintenance worker along the Deschutes River. The fly used synthetic yarn with a knot at the end extending over the hook to make the body.
While fishing the Metolius in 1982, Lee met another fly fisher who allowed him to look at a successful fly pattern he was using. It included a body of gold tinsel, yellow-dyed deer hair on top of the hook with elk hair used as an over wing. No hackle was used for the fly. Several years later, he learned the fly's name…The Getter.
That winter, Lee is back in the classroom teaching students to use macrame' cord to create wall hangings, plant hangers, and decorative owls where the bottom was brushed out to create a fuzzy appearance. You guessed it, combed out macrame' cord was the missing ingredient to create the impressionistic body.
His foresight of using 100% polypropylene to create one of the most effective stonefly imitations is my most productive fly during the Golden Stone hatch.
The final version of Clark's Stonefly was completed in 1983.
Clark's Stonefly can be tied in a variety of colors and sizes to imitate any stonefly.
This fly is designed to sit low in the water. To help float the fly in faster water, add a few turns of hackle.
The image below shows the Salmonfly version I tied with fire orange thread on top and the Golden Stones tied with orange thread below.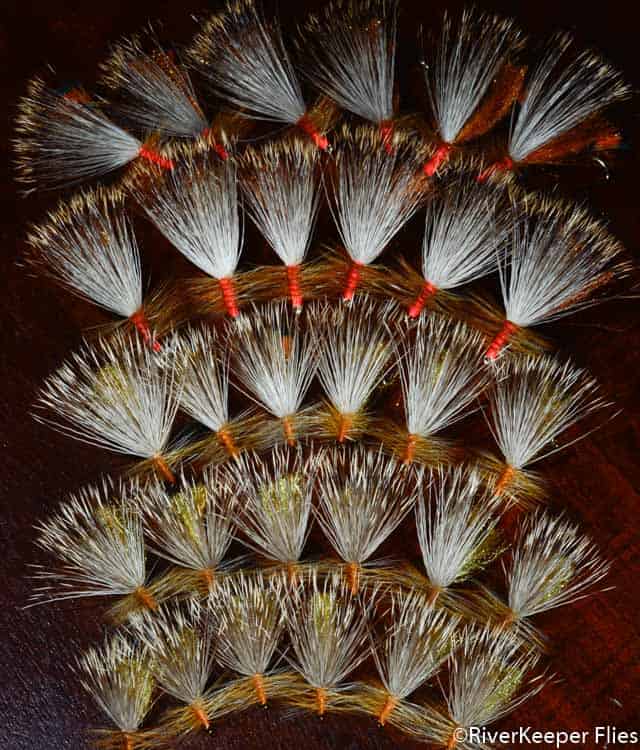 In 2015, Lee added a tail to emulate the female's egg sac and named it "Clark's Lady Stone". It's a terrific fly pattern and that one small change brings up fish!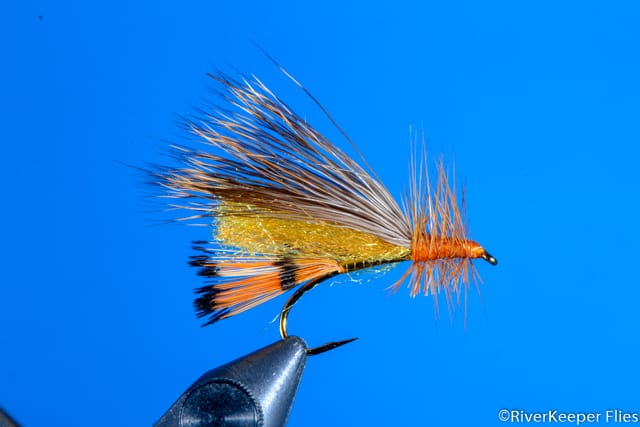 Here is a pin Lee gave me at the 50th Anniversary of the International Federation of Fly Fishers Fair in Bend, Oregon.
For more information about tying flies with poly yarn, pick up a copy of Lee's book.
Enjoy…go fish, stay safe!
(John Kreft is a participant in the Amazon Services LLC Associates Program, an affiliate advertising program designed to provide a means for sites to earn advertising fees by advertising and linking to amazon.com.)