This is the fourth year I've prepared a wish list for fly fisher's. If you read prior year's lists, there are several items remaining, because I really believe these are great gifts! I hope you find something useful on the 2019 Fly Fisher's Christmas list.
Many of these items can be purchased at your local fly shop and I encourage you to do so. But if you can't find the item, here are links to Amazon (affiliate links) or websites where you can locate these products.
Fishing
Ideas under $50
Gift certificate for fishing license – This gift is priceless! A fishing license is a gift that keeps on giving every day of the year. A great stocking stuffer!
Dr. Slick Mitten Clamps (Retail $22) – This is the tool I carry to crimp barbs and remove hooks from fish. This year, I lost the one I've carried for a long time. I think I placed it on the ground to release a fish. I'm replacing the lost one with a new one.
Tippet spool holder ($10 – $20) – There are a variety of these spool holders on the market which allow you to carry several spools of tippet, each having their own tippet sizes. Here is one from Fishpond. I carry 4X, 5X, and 6X with me at all times, so I might need one of these.
Magnetic net release ($10 – $30) – The magnet and tether keep your net out-of-the way, but close at hand when you need it. I've used these for years and really like it. I'm using it now in conjunction with the Umpqua Wader Belt shown below.
Hareline Amadou Fly Drying Patch (Retail around $20) – This is my newest, favorite accessory. Amadou is a natural tree fungus which quickly dries your flies. It works great for CDC flies as well. Squeeze your fly between the leather covered patches and the moisture is pulled from the fly. Your local fly shop can order the patch for you from Hareline.
Mag eyes (Retail $20) – I didn't used to need extra magnification to thread the leader through the hook eye, but these certainly help older eyes. Clipping them on the hat keeps them close, but out of the way. Choose the magnification you need to easily tie knots.
CliC – reading glasses (Retail $30) – Here is another great option. I have four pairs of these glasses in different magnifications…from 1.75x to 3.5x. These glasses have magnets between the middle of each lens and can be found in 1.25 – 3.5 power. They fit around your neck so they're always handy. The frames come in different colors as well. If you click on the link, it takes you to the 2x version. Other magnifications are available.
Flies for the Greater Yellowstone Area ($30) – The essential reference for fly fishing the Rocky Mountain West, Flies for the Greater Yellowstone Area compiles more than 500 fly patterns for nymphs, dry flies, emergers, and streamers. Filled with accurate recipes from the originators of the patterns, the book is perfect for use in the waters of Idaho, Montana, Wyoming, and other western regions. You can find other favorite books on my Fly Fishing and Fly Tying Books page.
San Juan Vertical Chest Pack ($50) – Fly fishing packs have certainly changed over the years. I think an old vest still hangs in my garage and I've replaced it with a pack like this I occasionally wear when I want to just carry one or two fly boxes. It's a great pack for a minimalist fly fisher.
Suncloud Sunglasses (Retail from $49.99) – I always wear sunglasses when fishing and I've used Suncloud for a few years. I wear the brown lens for all my fishing, rain or shine. It works well in low-light conditions as well. I have a "normal" pair as well as a bifocal pair with 1.5x magnification.
Graplrz ($16) – This sunglass retainer is a PVC coated stainless steel cable strap to securely hold your glasses. The following quote is from their website: "GRAPLRZ are designed and built to be the toughest retainer system on the planet. With attention to detail and strength, the GRAPLRZ are built with quality materials like industrial-grade silicone, UV protected aircraft cable, and anodized high strength aluminum. This patented system comes with a lifetime warranty guaranteeing your lifestyle is not too much for the toughest lanyard on the planet. GRAPLRZ are 16″ in length, and every pair is made in the USA." These can be found at your local fly shop too.
Tacky fly box ($25) – I recently purchased several Tacky fly boxes with a plan to replace my existing ones. Silicone replaces the standard foam slits you've seen for several years in your fly boxes. I just learned that Fishpond recently purchased this company and here's how they describe their fly boxes: " Finding a multitude of design flaws in traditional fly boxes, the minds at Tacky replaced traditional foam inserts with silicone and a durable plastic shell, and ditched the latched closure system for a magnetic, latchless solution. The result was the Tacky Original Box, featuring a no-memory insert that would not delaminate over time, an extremely durable outer shell that would not warp or crack under extreme temperatures, and a secure closure system which was much less prone to damage and failure."
Tacky fly boxes come in a variety of sizes and include the Tacky Original Box, Dry Fly Box, and Daypack Fly Box. Pick one and give it a try.
Ideas from $50 – $200
Fly Line Gift Certificate (Retail approx $75) – Your fly fisher probably needs a new line, but is too cheap to purchase one themselves. There are too many to choose from and they probably have a favorite, so the gift certificate from your local fly shop is the best way to go.
Fishpond Sweetwater Reel & Gear Case ($60 – $100) – various sizes at your fly shop or here are a couple examples from Amazon
Rock Treads ($60) – Install these discs on removable soles, rubber, or felt to provide additional traction when wading. The link below is for removable soles. Be sure to select the right one when ordering on Amazon. Many fly shops carry them as well. For further info, see my post – Aluminum Tread Soles for Wading Boots.
Korker Triple Threat Soles ($60) – I purchased these recently and tested them over the summer. While not the same as studded felt, they are a great alternative. For further info, see my post – Aluminum Tread Soles for Wading Boots.
Hitchcap ($50 – $100) – Check out your local fly shop and they may have a similar hitchcap. This one is from The Rogue Angler.
Umpqua Wader Belt ($50) – I purchased one of these recently and really like it. Fishpond has a similar model as well. You couldn't go wrong with either brand.
Fishpond Dakota Rod & Reel Case ($190) – This is perfect for the fly fishing traveler as it can hold multiple rods, reels, and fly boxes.
Korker Wading Boots (Retail $199) – There are several great brands of wading boots available for the fly fisher, including Korkers, Simms, and Patagonia. These manufacturers have multiple boots and price points available. I've been using Korkers for several years and wear the Devil's Canyon boots. I replaced a pair I wore for 3 years and had around 300 days of use! I really like the BOA lacing system and ability to change soles. Yellowstone National Park has banned felt soled boots beginning in 2018. With my Korker Wading Boots, all I need to do is switch to a non-felt sole and I'm good to go. Most days, you'll see me wearing my studded felt soles ($40). These boots are lightweight and comfortable.
Snake River Net ($120 – $185) – Your fly fisher might need to upgrade their old net. Snake River Net Co. makes 6 different custom nets, using exotic hardwood and adds a fish-friendly net bag. These are beautiful nets! In fact, I bought a new lake net last year from them.
Ideas Over $200
Fishpond Thunderhead Submersible Lumbar ($230) – I've been using these types of packs for a few years. Mine isn't waterproof and I occasionally wade a little deep. The result? A pack filled with water! Perhaps I need to take my own advice and try one of these.
Fishpond Grand Teton Rolling Luggage ($400) or the Teton smaller verion ($280) – For longer trips, this rolling luggage bag will carry your rods, reels, boot, waders, wading jackets…everything you need for a long trip. We have something similar we used on a Patagonia trip several years ago. The wheels were a godsend.
Waders (Retail $300 – $800 or more) – These are great waders and I've used both brands. I've worn a pair of Redington and Simms waders this year. My wife has worn the Simms G3 and I recently purchased the G4's. I'll probably wear the Redington Sonic-Pro's during warm summer days.
Fly Reel (Retail $200 – $500 ) – So many choices here…Lamson, Sage, Hardy, Abel, Ross, and one of my favorites – Galvan Torque. Any of those brands are terrific! Again, a gift certificate from your local fly shop is the way to go.
Fly Rods (Retail $200 – $2,000) – "You can never have enough" fly rods! I've been fishing my Winston BIIX fly rods for several years. Best fly rod I've ever owned. The Winston has replaced my tried & true rod, but there are several other models to choose from. As with fly reels, there are a lot of great rod makers out there…Sage, Redington, Echo, Beulah, Scott, Orvis…the list goes on. Or try an old school bamboo fly rod. Select a price-range and there's sure to be a good rod in it. Your local fly shop can help select the right one. As with fly reels, a gift certificate is the safe way to go for this gift.
Bamboo fly rod from Bamboo Pursuits (from $1,995) My friend Dave Dozer builds beautiful pieces of art which he calls bamboo fly rods. I've highlighted his rods in previous years, but he is a true craftsman and if you are considering a 'boo rod, give him a call for the specifics of owning a classic. If you've always wanted to build your own bamboo rod, Dave offers a class to accomplish that dream. Contact him at Bamboo Pursuits.
Fly Tying
Ideas under $50
Hooks (Retail $5 – $25) – Whether your fly tyer uses Daiichi, Tiemco, or the new Firehole Sticks, pick up a pack in quantities of 25, 50, or 100. They're a great stocking stuffer. I always need hooks!
Slotted Tungsten Beads (Retail $7 to $20) – These beads are used for many of the Perdigon style nymphs. They are very effective.
Dr Slick Razor Scissors (Retail $30) – These scissors are the best I've ever used and I would be remiss if I didn't include them in the list again. Sharp with large finger holes, I like the 4″ version the best. My guess is your fly tyer's scissors are dull. They will love these scissors!
Renzetti Tool Caddy (Retail $25) – This foam caddy with holes is a handy item for the fly tyer. It will hold scissors, bobbins, head cement, tweezers, or any other tool and keep them organized and close at hand. I use mine constantly. This item is another perennial on my list.
Ideas over $50
Solarez UV Light ($50) – This rechargeable light is what I use to cure Solarez UV resin. I've been using their Bone Dry version and really like it.
Verilux Natural Spectrum Desk Lamp for fly tying (from $50) – You have to see in order to tie flies and this is the first part of the equation for success – the second half is glasses. I use a similar light everyday I tie.
Fly Tying Vise (Starting at $179) – Perhaps you would like a new vise. There are several great brands to choose from including Dyna-king, Regal and Norvise, but I tied on a Renzetti Traveler 2000 for several years and really liked it. I now toe on a Presentation 4000 model and really enjoy it. Purchase one with the base and they'll be able to tie anywhere. They make them in right- and left-hand models. Check out the Traveler 2200 or 2300 models.
Custom RiverKeeper Flies
Last but not least, order some Custom RiveKeeper Flies for your fly fisher or even yourself! I can help select the right flies. Contact me by leaving a Comment below.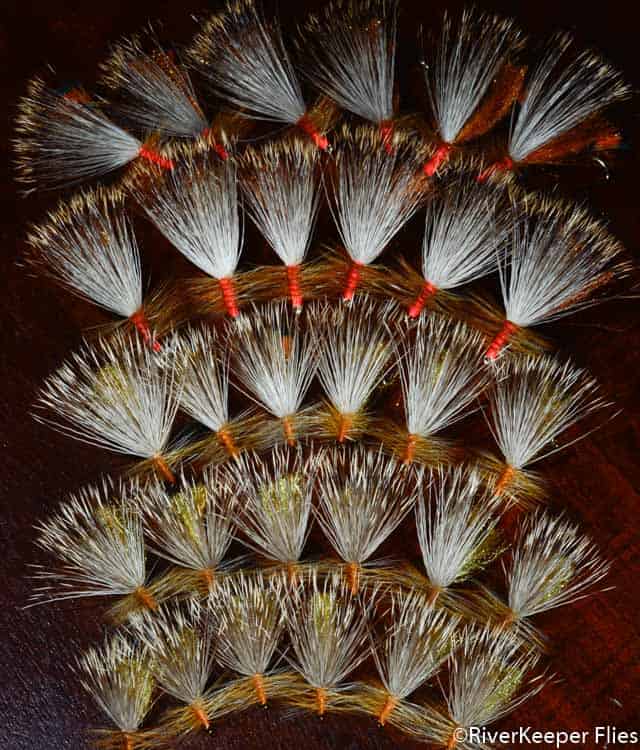 That's it for the 2019 Fly Fisher's Christmas List. I hope you are able to share the list and get what you want this Christmas season. Your fly fisher will be happy with many of these items.
Enjoy…go fish!
(John Kreft is a participant in the Amazon Services LLC Associates Program, an affiliate advertising program designed to provide a means for sites to earn advertising fees by advertising and linking to amazon.com.)